We don't usually reach for a quote from Lenin to kick-off a blog but, in a pensive moment, Vladimir Ilyich mused "There are decades where nothing happens, and there are weeks where decades happen". Ten weeks of lockdown, with travel limited to a walk to the end of the garden, has given us lots of time to read and observe what's happening in the world of food business. Our conclusion is that Covid-19 has accelerated existing trends and forces, so, buckle your seat belts and keep a weather eye. We're going to try our best to give you a list of pointers on the outcome of the pandemic and how it has and will affect the agribusiness and food industry. Here goes:
1. The business impact and opportunities will depend on the shape of the curve in your markets.
The popular view of the alphabet of economic recovery is that we'll see a V shape – i.e. the cataclysm we are or have just been through, followed by a sharp recovery (and, fingers crossed, an effective V for vaccine). That's what the IMF thinks but others, such as ING's view for the German economy is that it'll be more U shaped and, what's more, the U will have a flat bottom – "the route to normality will be long". Let's hope it's not a W – dive, sharp recovery but a coronavirus spike in the Autumn/Fall causing another dive or, even worse, a L – after the dive, we bump along the economic bottom for months. You can't assume that it's going to be a V, so, what's your plan if it isn't?
2. The business impacts and opportunities will depend on each country's experience managing and living through the Covid-19 epidemic.
Let's contrast experiences in the UK and Thailand, countries with similar sized populations (68/69 million each). From March to the end of May, Thailand had 3,000 cases and 60 deaths; the UK had 265,000 cases and 38,000 deaths. We'd wager that, as they are doing now, Thais will be flocking into their restaurants, masked albeit and tipping their hats to a modicum of social distancing. Actually, when the malls opened in late-May, customers were required to show their national identity cards and download a tracking app. Thais won't be wary of brushing against other Thais but they'll be terrified of any contact with Europeans unless they have a big sign on their heads announcing "I was Covid-19 cleared when I landed at Bangkok Airport"!
British, Spanish, French and Italian consumers, likely, will be much more circumspect dining in close confined restaurants, browsing in packed shopping malls and travelling to social events cheek by jowl on public transport. This suggests that the restaurant sector, in particular, will be on a long road to recovery but disappointing in-house revenues will be bolstered by burgeoning meal deliveries courtesy of Uber Eats, Deliveroo, Just Eat et al.
It looks likely that Asian economies will recover quicker than those in the "West", not least because most (e.g. Japan, South Korea) were roughed up considerably less by Covid-19 than Western countries. This is good news for food exporters to, in particular, the higher income Asian countries. But recession in North America and Europe is bad news for economies in other regions who target high income Western markets.
3. The biggest impact by far of Covid-19 will be its dreadful legacy of reduced household incomes for the large majority of consumers.
We'll see a scramble for value right across the globe as consumers seek to maintain standards of living by increasingly savvy shopping and their scrimping, particularly for food, will affect product and service purchases and choice of sales channels for every food business:
premium meats such as beef and lamb will struggle to compete with lower-priced pork, chicken (although, in the short-term, meat prices globally will be lifted by massive Chinese imports of pork to replace local pork eliminated through African Swine Fever culling), and affordable eggs. As we've already seen in many Western meat markets, carcase balance will continue to be an issue as shoppers seek lower value cuts;
it'll be the same story for premium fish and seafood;
plant protein meat substitutes (e.g. Beyond Meat, Impossible Foods) will need to pare back their prices to be more competitive with regular meat if they are to maintain their meteoric sales growth;
and for premium fruit & vegetables – on domestic and export markets, premium cherries, berries and stone fruit will be under particular pressure;
in the early days of lockdown when panic shopping was rife, consumers accepted less choice as their focus was on procuring the basics. Is a longer-term trade off for the income-constrained shopper, less choice but lower prices on essential products?;
even eco-sensitive shoppers will trade down (as they did after the global financial crisis of 2007/8) and seek more affordable "planet savers" – it's not that they will value less "green" initiatives and important social attributes relating to, for example, animal welfare, it's their pragmatic view will be "financial needs must";
worrisomely, coming out of the Covid-19 crisis, income distribution will have worsened in many countries (frighteningly so if we have a W rather than a V or U recovery) – a growing gap between haves and have nots. After us all "pulling together" through the pandemic crisis, this will foment social division encouraging political populism with all its negative aspects.
4. Longer-term changes in food shopping and eating out post-Covid.
In process is an acceleration of the trends that were evident for grocery shopping pre-Covid, i.e. much more online grocery shopping with concerns about "supermarkets choosing my fresh food" reduced as a result of acceptable experience during the lockdown. Top up shopping from local convenience stores will continue to see growth. Hard discounters, particularly when they have fine-tuned their online offer, will take more market share from traditional supermarkets. Don't expect multi-channel retailer, Tesco, to fall over – its "Aldi Price Match" offers on its fake farm-branded fresh meat and produce (e.g. Rosedene Farms) are effective hard discount foils but one of the supermarket Big Boys is going to get in trouble.
We'll see significant disruption in food service post-Covid exacerbating the troubles of those businesses that have focused exclusively on serving the restaurant trade (helping their food service customers introduce takeaway offers would be a well-received service). It'll take time for diners to have the confidence to return to sit down restaurants, even with tables suitably spaced and staff exuding good hygiene practices. Customers will have to get used to 2 or even 3 "sittings" – e.g. 6 to 8 pm and 8 pm to late. The importance of re-building the confidence of tourists to travel to holiday destinations is paramount – tourism is 10% of global GDP! Restaurants will supplement sit down customer revenues with an increasingly sophisticated takeaway offer. QSR and Food-2-Go chains (e.g. Pret) will recover well. Contactless ordering and payment will be a common feature. Look out for vending machine developments (delivering tasty food and drink rather than fizzy pop and sugar-loaded snacks – they're already in place in Japan and South Korea) with no point of human contact.
5. Scary times raises consumer concerns about safety, health and food security which affect everybody in the food chain.
We've all becoming more germophobic so don't touch!  Spanish supermarket advertisements start and finish with a promise on "Safe Shopping". The Japanese are inveterate mask-wearers and bow on greeting rather than shake hands – 2 reasons suggested why the Covid-19 death count in Japan is one-fortieth of the UK, even although they have an aged population which is twice the size of the UK, packed into big  cities (Greater Tokyo is the largest metropolitan area in the world making London appear a minnow). Get used to masks, gloves galore, plenty of perspex, hand sanitizer, and contactless ordering and payment to build consumer confidence and don't forget social distancing which will be with us for the foreseeable future. In restaurants, we will to have to leave the details of all of the people dinning with us so they can be traced if anyone starts coughing a few days later! This brings additional cost without much chance of it being recouped. In Asia, there'll be an accelerated rationalisation of traditional wet markets. In the West and, for the moment, we'll be less wracked with guilt about using "evil" plastic packaging, although the pressure will be there to make it recyclable  and preferably compostable sooner rather than later. In fact, any initiative that makes shopping faster will be welcomed and rewarded – for safety and simple time-saving reasons.
Being locked down for 10 weeks has given us more time to think of our health and how we might improve and gain more control over it. Notwithstanding that indulgent snacking and drinking at home has gone through the roof, consumers say they want to eat healthier and exercise more such that they can be self-reliant – we may love the NHS in the UK and, certainly, we want it on tap but for me and my family "only in extremis". Food that is perceived to be healthier is firmly on-trend but it should be real food, i.e. not food that has the bad stuff taken out and good stuff added. Healthiness relates to much more than just me and my family, but to the local community and local businesses, the environment, farmers and their animals. Are we willing to pay extra to improve the health of our society? The spirit is willing but the pocket book is weak!
Declining household incomes will reduce the degree of eco-activity in otherwise green-leaning families, but the longer-term trend of selecting climate-friendly diets will regain its 2019 strength (Beyond Meat's share price doubled in April/May). Expect organic foods to struggle but, as organic's proxy, local foods and local food retailers will do well. Expect to see burgeoning demand for intrinsically healthy fresh fruit and vegetables – yes, but only if they are convenient to prepare and consume. Remember, convenience trumps health. Frozen foods have received a fillip from lockdown – their storability was and is a plus but, then, we've found out that they have the quality of chilled products and at a lower price.
6. Renaissance for Home Cooking?
We shall be spending more time at home and, therefore, we'll eat more of our snacks and meals at home. That's good news for supermarkets but, also, good news for Food-2-Go specialists, meal kit specialists (e.g. Mindful Chef, Simply Cook, Abel & Cole) and for the scourge of city streets Deliveroo, Uber Eats, Just Eat et al! Will we be cooking more from scratch actually using, if you'll excuse the old fashioned term, ingredients? Our recipe repertoires may have improved slightly over lockdown, and we may have produced a sour dough loaf after much experimentation, but we haven't been transmogrified into a nation of Mary Berrys! We'll purchase meal components that we will then bolt together to present, with a flourish, as our home cooked meal! Mind you, for families really income-constrained (1.6 million families used a foodbank in the UK in 2019 and early-2020 – a shocking statistic for a "high income developed country"), combining ingredients is a cheaper route to preparing a meal than purchasing something part-prepared.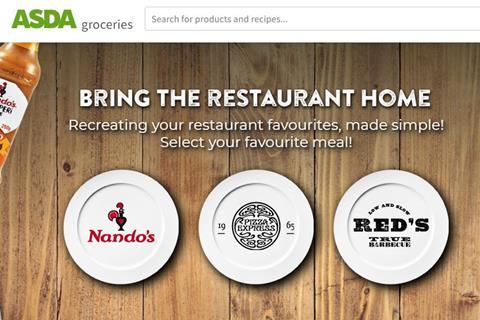 7. Disruption in the food supply chain.
Supply chains and their operations are in a constant state of evolution and even disruption and this has been accelerated by the coronavirus pandemic. In general, "the global food system has weathered the challenge of covid-19" (The Economist) – the exceptions are meat processing particularly in North America, labour issues with the harvesting of fresh produce, and supply chain interruptions for fresh fish and seafood (e.g. air freight shipments of shellfish collapsed as air travel came to an abrupt halt) . But above our current tribulations, we have the Internet of Things (IoT) transforming our food system at every level in the chain, such as:
with "home as the hub", increasingly, we are reliant on technology and much more than simply for ordering our groceries & meals. When did you last open a recipe book when YouTube is a click away? ;
supermarkets are developing apps for queue management, robots to check on-shelf availability, and to pack shopping orders in "dark stores", and there's the on-going revolution to match Big Data with "loyalty card" data to provide personalised grocery and meal deal offers to each family;
much more automation and encrypted information flow across the supply chain from the home and from the restaurant back to the farm which provides opportunities to match better supply and demand and to reduce waste;
consumers want to know more about where their food comes from and how it is produced – this translates into greater transparency and traceability in the chain with blockchain one technological option.
8. Greater robustness and resilience in supply chains.
As we said earlier, the global food supply chain has, all things considered, done pretty well. But, there's been sufficient shocks for major players to take hard looks at their supply chains to ensure that, in the next crisis (and there will be plenty), they won't be hung out to dry because of the lack of key ingredients and services. Likely, this means that supply chains will be shorter and closer bound with, hopefully, partnerships being real, i.e. stronger, longer-lasting, rather than simply partnership promises comprising fine but fluffy words!
9. Food security concerns elevated.
To repeat, consumers have been pretty well served in terms of food supply during the lockdown. Yes, there's been a run on flour and occasional shortages of eggs, but most folk have been able to buy their gluten-free brioche when needed! David, a veteran of food rationing from the early-1950s, thinks that whingeing namby-pamby consumers should get a life and be force fed Woolton Pie (Google it!). But, a positive outcome of consumer concern about food security is that it has and will continue to drive demand for locally-produced foods which can be purchased from local businesses. There's a challenge here for the local product – to make it convenient to buy (in terms of availability) and to communicate loudly and clearly its benefits for consumers. Remember, in a post-Brexit world for UK agriculture and food, there'll be keenly-priced food items from our new trading partners that will be attractive to many consumers seeking to put affordable meals on the family table.
The crisis has raised governmental concerns about food security. This raises a red flag as a political response is to support calls for more food self-sufficiency in a country. On the surface this may appear rational but it is, also, the thin edge of the wedge in terms of disrupting freer trade around the world. We've been a major importer of food in the UK for 150 years (since the repeal of the Corn Laws). If we can build self-sufficiency with world class efficiency that's one thing, if we just put up tariff walls at the expense of both consumers and historic trading partners that's another. Looking at food prices across the globe through the coronavirus crisis, only rice has spiked and why? Because the Vietnamese government put a block on rice exports. As there are only 4 major exporters of rice, removing a major player from the market spawns frenzied buying by consumers (it's sort of like Kimberly-Clark stopping the shipment of Andrex with the consequential crazy impact on shoppers' toilet paper buying behaviour – sound familiar?!).
10. What are you doing to make things easier and better for your customers during the Covid-19 crisis?
Before, during and after this dreadful pandemic is expunged, consumers have and will be asking those that sell them products and services "What's the purpose of your business? How are you contributing to society? How are you making things better for me and my family?". It is very useful if you have answers to these questions. Take a look at what Unilever and Danone are doing – they recognise that brands with a purpose grow faster than those that simply have a raw commercial rationale. Danone has just become an "enterprise à mission" whereby its purpose and objectives in the social and environmental fields are set out in the company's articles of association and its performance on these are measured each year by an independent auditor. If something good can come out of this dreadful coronavirus pandemic, it could be that companies globally recognise that being good is good for business!