Many consumers have the very best intentions when it comes to buying food for their families – they want the healthy one and, increasingly, the one that's better for the environment. But, bless us, we want these good attributes if they're convenient. We thought we'd take a look at some more recent developments that are designed to make the increasingly complex business of shopping easier.
Nutri-scores and Enviro-scores with traffic lights – red through green – are coming and at pace. That's got to be good for consumers concerned about their health and the health of the environment and it's in the same direction that governments are pushing health and climate change policies. But will shoppers understand them and/or will the traffic lights be lost amongst the plethora of marketing and regulatory required information on pack when most shoppers only apportion a few seconds to each grocery purchase? IGD research in the UK indicates that many consumers are confused by nutritional traffic light labels but, one thing is certain, dealing with complex matters relating to nutrition & health and, maybe even more complex issues relating to a product's environmental/animal welfare/social impact, there'll be no perfect system. For those consumers who have the time and inclination to check out food and drink products they wish to buy based on their performance on both health and on tricky social issues, then, "there's an app for that"! Here's 4 of the higher profile ones:
Yuka – the "mightiest" of European shopping apps which covers 1.5 million products of which 70% are food and drink (the rest are cosmetics) and has 20 million users in 11 countries across Europe. In France, each product is actually given a Yuka enviro-score;
Giki – awards product badges, based on data provided by the manufacturer and referenced against 30 subject matter expert partners, such as RSPCA (on animal welfare), RSPO (sustainable palm oil), Fairtrade and the Rainforest Alliance;
Setai – carbon emissions are the main concern of this app and users can see how much a product contributes to their daily "carbon budget". Soon, the app will offer users the chance to offset their purchases through reforestation. In addition, it scores each food product out of 10 on health;
Food Switch – developed by the George Institute for Global Health, users can filter by health concerns and get alternatives based on whether reducing salt, fat or sugar is a priority.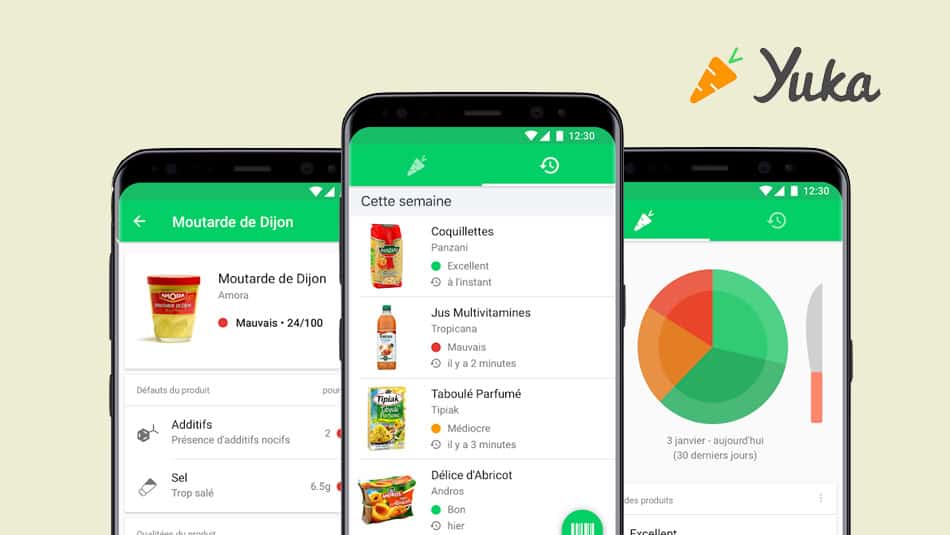 These apps are performing the role of a "trusted third party" who is not linked to a retailer or a brand at a time when, increasingly, consumers are confused by "green" claims and suspect companies (particularly the bigger ones) of "greenwashing". As these apps gain traction with consumers, it will certainly push manufacturers to up their game relating to their products' health and social impacts. They may disagree with the scoring systems used by Yuka et al, but if their products generate glaringly red traffic lights on the apps, it will have a profoundly detrimental impact on sales, at least sales to the app users!
Avoiding food waste has moved closer to the top of consumers' agenda during the pandemic.Ten years ago in the UK, discounters gained the favour of an increasing proportion of shoppers vis-à-vis traditional supermarkets. Discounters focused on everyday very low prices, supermarkets looked to drive volume and value through BOGOF (Buy One Get One Free) and "3fers" promotions that led to increased food waste. We've moved on since then. In fact, the UK Government is introducing regulations to ban such multi-promotions albeit specifically for "junk food". Now, there is great pressure along the supply chain both to avoid waste and to save money!
Of course, good retailers have long been assiduous in reducing in-store food waste – it's a "no-brainer" as dumping unsold food is a double cost (cost to buy and cost to dispose).  Supermarkets often have an effective multi-tiered approach: discount what is slow-moving and edging towards its Best Before date; if it still doesn't sell, use any of the available Apps that connect your food with consumers avid to get products with a discount, or send it to a Food Bank to help feed the deprived. Distributing through the Too Good To Go App can generate some revenues (and it is widely used by restaurants, especially during pre pandemic times) and as a last resort, give it away via the Olio App, that connects the supermarket with volunteers that will collect the food, upload the details on the Olio App and then give it to those that claim it. The Olio App is gaining traction – its British and American co-founders have just raised £43 million to expand internationally and have a Big Hairy Audacious Goal of attracting 1 billion users to the App by 2030! 
But, in fact, food waste at the retail level is very small compared to waste in the consumer's home and there are also interesting developments to help consumers reduce waste. The UN's Sustainable Development Goal (SDG) 12.3 aims, amongst other things, to halve food waste at consumer and retail levels. Being part of the solution will be a high priority for high profile grocery retailers who will come under increasing pressure from government and consumer activists. As importantly, helping consumers reduce food waste builds trust and concomitant loyalty between retailers and their customers. 
Plant Jammer (PJ) is best known for its AI-powered cooking assistant that helps users create recipes from the existing inventory in their fridges and pantries. The idea is to provide consumers with more ways to use all of their at-home food, so less waste goes into landfill. The pandemic has fuelled interest in its use. PJ has just added an "Empty Your Fridge widget" which it is licensing to third parties who can build customised experiences for their own customers – for example, a consumer can simply select the ingredients they have in their fridge and, via the  widget, receive a customised recipe from the licensed third party in return. Users can input preferences and dietary concerns which will be reflected in the recipe. Aldi Sud and RIMI Baltic (owned by Sweden's major retailer ICA) are among the first major food companies to implement the food waste-fighting widget on their web sites so that their customers can track and manage food waste in their own homes.
Source Plant Jammer
USA supermarket chain Kroger has launched an AI-powered Twitter recipe tool, Chefbot, for helping consumers come up with recipe ideas using leftovers and food items lurking in their fridge! Here's how it works:
Snap – snap a photo of 3 ingredients from fridge/pantry;
Tweet – photo to @KrogerChefbot and thousands of possible recipes are scanned to come up with meal ideas!;
Cook – within seconds, you've got personalised recipe recommendations with instructions.
Chefbot fits in well with Covid-induced cooking behavioural changes and can be very useful in expanding the often limited recipe repertoires of many household meal preparers. A UK environmental charity Hubbub survey shows that 57% of consumers value food more now than in the past, and almost half are more worried about food, not least wasting it, than in pre-Covid times. When you're home all day, you're in closer contact with your fridge and its contents!
We'd wager that food waste in the home has increased in many countries as household incomes have increased, cooking skills declined, and principal meal preparers, often women, took employment outside the home. Chefbot and Plant Jammer Apps are designed to give home cooks inspiration and practical cooking tips.
Is grocery shopping simpler now? NO. There's more products, more channels, more social issues that we must check before purchasing. Is it slave-free? Animal welfare-friendly? What's the environmental status? Who produced it and where and how? On top of all this, Brenda is vegan and John is trying to cut out dairy and thinks he's gluten-intolerant. It's a nightmare! As a result, we need help and there's an app for that which might sit pretty with Generation Z app natives but it adds challenges for those who are less digitally adept. Nutritional and environmental apps will have their place but only for a minority of shoppers. We think the front-of-pack nutri- and enviro-scores are more likely to have a significant impact on purchasing behaviour and both these will lead to substantial reformulation of thousands of food and drink products as manufacturers seek to avoid the red traffic light scores for their products.
The pandemic lockdowns have increased our screen time, so there is no wonder that startups and big companies have seen an opportunity here to be more relevant, especially for younger shoppers. If your digital offers and services are easy to access, helpful and respectful of users' privacy, they're terrific business tools that can build the trust and the longer-term loyalty of your customers.